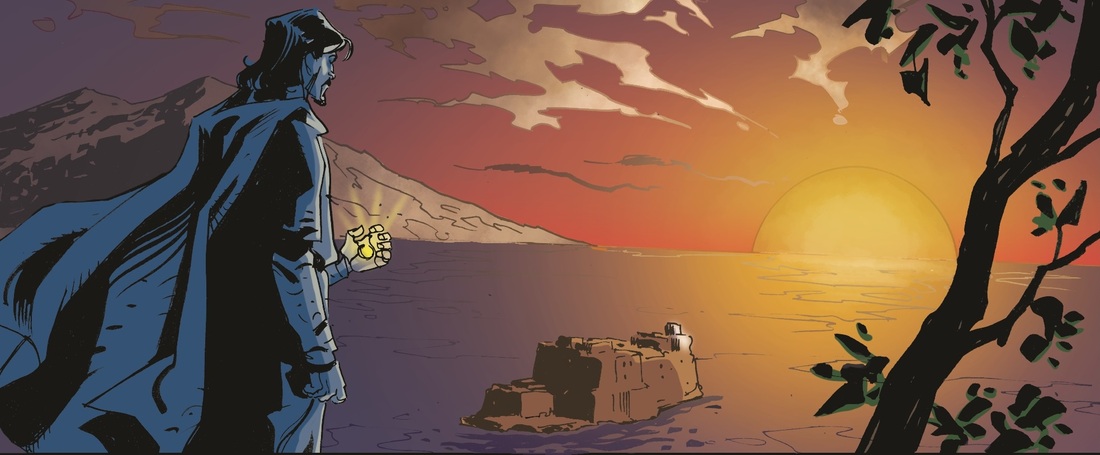 Procopius reflects as he awaits the arrival of New Year's 2014. As that is a 1,476-year wait for him, hopefully he also brought a book.
As we stand on the precipice of another Annus Novus, it is customary to reflect, Janus-like, on both the past and the future. If you are writing a Roman history graphic novel, it is also customary to cram in enough superfluous Latin words, classical references and flowery language as one can to sound pithy and learned to one's readers. Now that I've met my quota on the latter, I'll expound on the former.

Twenty Thirteen has been the biggest year yet for the development of Amiculus in its six-and-a-half(!) year history. After moving beyond the writing and polishing stages with the script (which, admittedly, mainly took that long because I procrastinate), the project has taken leaps and bounds in its movement toward realization, with tons of great new art and an impending partial publication on the horizon. Even though my first stab at crowd-funding didn't achieve all desired results, it was a very promising start, teaching me some valuable lessons about building an audience and providing the first concrete evidence that there is an audience out there for the work I am doing.

Additionally, I learned Rome wasn't burned in a day. It takes time, dedication, and most importantly, a ton of help to sack and despoil all of western civilization, and I made lots of allies in the push toward that goal this year. Apart from my fantastic production team (Giancarlo Caracuzzo, Flavia Caracuzzo, Frank Cvetkovic, Pamela Kame) there were my Kickstarter supporters (you know who you are, Amiculi), and my lovely yet long-suffering wife, Becky, who accepted the role of my unpaid editor and unofficial shrink with grace and aplomb, as opposed to the ball-peen hammer to my temple that I (perhaps) deserved. There were also my many friends and colleagues in the Columbus, Ohio art and theater communities, without whose aid and guidance I would still be agonizing over draft thirty-seven of the script and no closer to the preview volume now so tantalizingly near to fruition.

Speaking of that volume, lettering has begun! Very soon, you will see story grace those fantastic pages Giancarlo has inked and Flavia has colored! I look forward to showing you those, and more, a short distance into the New Year.

Felix Sit Annus Novus!