PART X: THE HAIRY MAN FALLS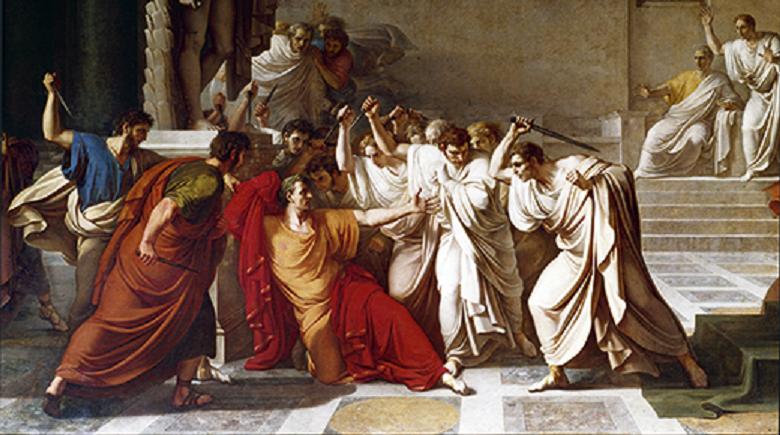 You could make a literal flip-book from all of the paintings of Caesar being stabbed to death, but just try to find ONE image of Pompey winning a battle...
This segment focuses on two key, opposing yet oddly complementary failures: Caesar's ultimate failure to become king, and his successors' failure to halt Rome's slide toward one-man rule. It seems fitting that, since I began the section on Julius Caesar on the anniversary of his death, I am concluding it on the anniversary of his birth (July 13).

​In the last segment, our intrepid dictator was at last on the top of the heap, wallowing in victory, reveling in praise, and drunk with glory. But as any victorious politician quickly discovers, the champagne runs dry, the balloons deflate, the bunting comes down, and the hard, ugly work of governing must begin. This was harder and uglier for Caesar than for your average head-of-state. The Senate had declared him dictator in perpetuum, or dictator-for-life, effectively giving him one-man rule. However, his position remained tenuous, as it depended on the compliance of the existing system. Caesar wanted to uproot this system, firmly cementing his power to become nothing less than an absolute monarch. The way to this goal was through the Roman people and the legions, with whom he was tremendously popular. The mob was his base of support, the legions a cudgel against his enemies, and as long as he had their backing, the Senate could do nothing against him.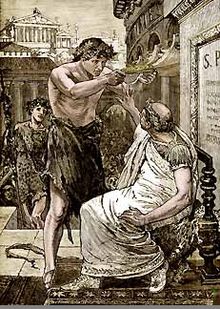 The irony was that the Roman masses upon whom he depended would never accept him (or anyone else) as a king. Hatred for monarchs burned just as brightly in Rome as it had nearly five hundred years before, when Lucius Junius Brutus toppled Tarquin the Proud. Caesar came up hard against this reality during an incident at the Festival of Lupercalia in February, 44 B.C. He staged an event where Mark Antony would present him with a crown wrapped in laurel, which Caesar would refuse. He hoped that his enormous popularity would stir the crowd to demand that he accept the office of king, but they cheered loudly only when he refused it. Antony offered it twice more, with Caesar refusing both times, and each time the crowd cheered louder. This infuriated the dictator, and he later took his frustrations out on two tribunes who were removing similar crowns from his statues (to great public acclaim) by stripping them of their offices. This was a very unpopular move with the public, and was one of the few public relations missteps the otherwise savvy Caesar made. Yet it spoke to the tremendous difficulty he was suddenly finding in moving his agenda forward.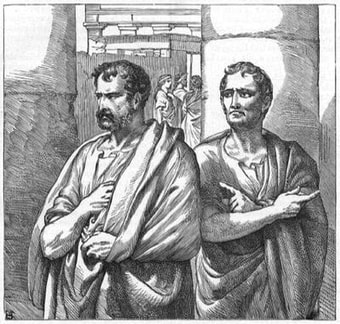 Ultimately, Caesar's grand experiment never got to play out, due to his other great failing: his incredible hubris. Caesar had come to believe (like many of his supporters had) that he was invincible, as no enemies remained to challenge him. He had made a practice of forgiving the followers of his vanquished enemies, perhaps to avoid appearing as a bloodthirsty tyrant as Sulla had, perhaps to make the Romans amenable to his potential example as king, or perhaps because he just had a pathological need to be loved. Anyway, he surrounded himself with these "friends", not considering that to be forgiven was not the same as to be reformed. As a result, a conspiracy coalesced around a group of these men, senators calling themselves "The Liberators" and led by Marcus Junius Brutus (descendant of the king-toppling Brutus) and Gaius Cassius Longinus. The incident at the Lupercalia was the last straw in Caesar's mountainous hay bale of tyranny, and to preserve representative democracy, they made the obvious choice on March 15, 44 B.C....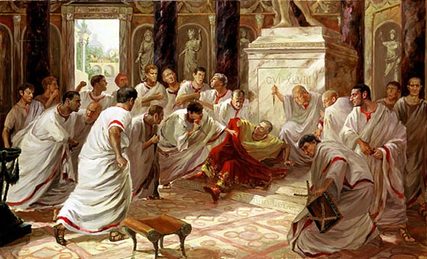 MURDER MOSH PIT!!!
Twenty-three stab wounds later, Caesar lay dead at the feet of a statue of Pompey, symbolically defeated by his enemy (and don't think this wasn't intentional on the part of the Liberators). Having righted one wrong with another, Brutus and his fellow Underpants Gnomes lay back on their giant pile of skivvies and waited for the profits to roll in. Or, if you aren't familiar with this South Park reference, they reclined upon their laurels and waited for democracy to re-assert itself.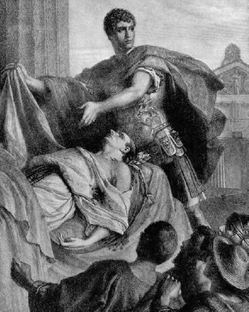 Like the Underpants Gnomes, the conspirators skipped their own Step 2 in restoring the Republic: making sure that they had a popular base of support for committing tyrannicide. Sure, the senatorial class hated Caesar, just as they had hated every popular reformer since the Gracchi. As part of this class, the Liberators were certain of the justness of their cause. But being the insular, classist snobs that they were, they did not deign to ask what the plebs thought about it. As it turned out, they misread the popular reaction badly. Rather than rescuing the Republic, they had sped it to its doom, one that would reach out and claim all of them only five days later, at the dictator's funeral. The harbinger of this doom would be one that none of them (save perhaps Cassius) would have expected.
NEXT: AN EMPIRE RISES