PART XI: AN EMPIRE RISES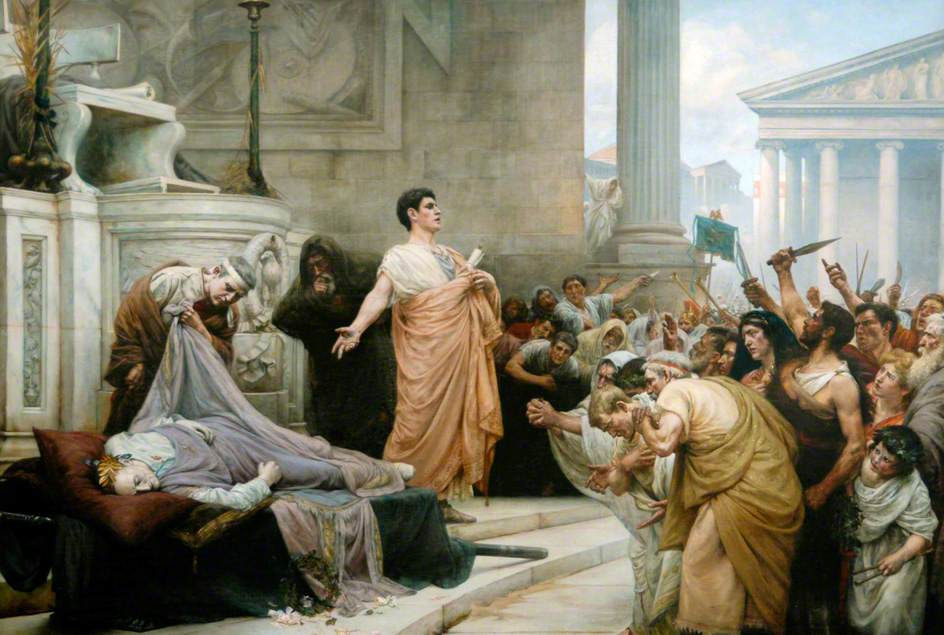 "Yeah, that's right! What is your centuries-long system of representative government worth next to this autocrat you all really, really liked?" Antony working the Roman mob.
​Plutarch described Marcus Antonius as a man with "simplicity in his nature, and slowness of perception." In this, he had always been a mixed blessing for Julius Caesar. On one hand, He was one of his most loyal supporters, and an inspired field commander. He had rescued Caesar from potential destruction at Pompey's hands at Dyrrachium, showing up with reinforcements in the nick of time, and had performed masterfully at the Battle of Pharsalus. However, in matters political, Antony was a mess. He was an infamous drinker and debaucher, showing up at state matters hung-over and even vomiting drunk on occasion. When Antony stood as Caesar's surrogate in overseeing Rome, he governed impulsively, high-handedly and with disdain for anyone but the military. The violence sparked by his personal clash with the tribune Dolabella was easily the low point of his tenure. The ill will he generated toward Caesar had to have given the dictator pause in trusting his lieutenant with more than limited responsibility.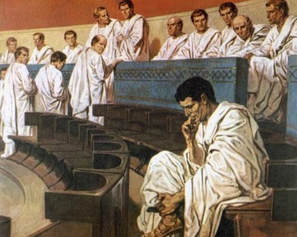 ​For Brutus, Cassius and the conspirators, Antony was even more of a conundrum. As Caesar's close friend, he held the potential for tremendous influence, yet never seemed to make much of it in practice. Would he be an asset, a liability, a needless distraction or a mortal threat? In the debate over killing Caesar, the subject ranged from recruiting Antony to killing him. Ultimately, they decided to do neither.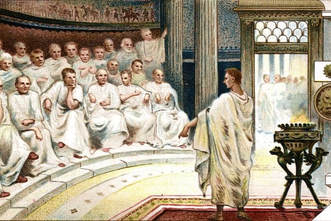 In the moment of Caesar's assassination, Antony initially reacted true to form, fleeing to his house disguised as a slave. However, when he realized the Liberators were not planning a general slaughter, he approached them with the offer of a general amnesty. The Liberators had misread the political zeitgeist badly in killing Caesar, and were in no position to rein in the political chaos they had touched off on their own. Reluctantly, they allied with Antony, hoping to utilize him in the short term as a junior partner in restoring order.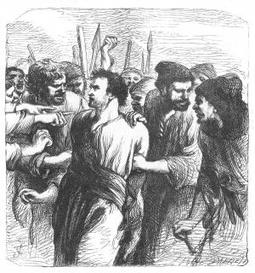 As William Shakespeare famously demonstrated, Antony surprised virtually everyone with his uncharacteristic quick thinking and strategy. He seized control of the vast war-chest Caesar had stockpiled for his Parthian War and got his hands on Caesar's will with the assistance of his widow Calpurnia. This revealed that Caesar planned to leave a substantial fortune to the people of Rome, which Antony would use to garner sympathy. At the dictator's funeral, he undermined the Liberators with the subtlety of a pitcher plant, lulling them first with sweetness, then turning that nectar into acid against them. He whipped the Roman mob into such a frenzy that they rioted in the streets, burning Brutus and Cassius's houses and murdering a poet who shared the name of a conspirator (Cornelius Cinna). The conspirators fled for their lives, leaving Antony in place as the new master of Rome.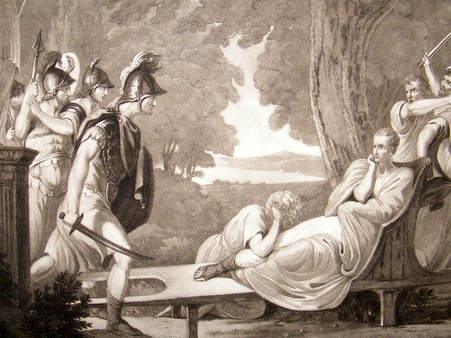 This was Marcus Antonius at the height of his fortunes. He wasted no time in attending to Caesar's mistakes, separating friend from foe in the Senate and brutally massacring those who fell into the latter category. This included Marcus Tullius Cicero, a lifelong foe who Antony had beheaded for his personal attacks in the Senate. Over the next two years, Antony destroyed the murderers of Caesar one by one, ultimately felling Brutus and Cassius in spectacular fashion at the Battle of Philippi.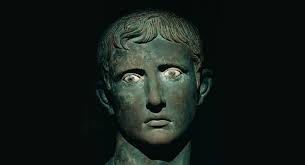 ​Philippi effectively ended the Roman Republic as we know it. Yet it was not quite the beginning of a new Roman world order. For all of his success, Antony was not to be the coming man. He had displayed brilliant tactical prowess and opportunism, but remained a poor long-term strategist. These weaknesses would be laid bare all too soon by the man who would actually usher in Rome's new, autocratic age.
NEXT: HERE WAS A CAESAR; WHEN COMES SUCH ANOTHER?