PART III: THE TRIBUNE WAS TOUCHED
---
---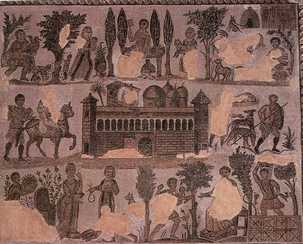 In our last segment, I provided an overview of the explosive military expansion of the Roman Republic, which, by this point, was really an empire without an emperor, between 300 - 100 B.C. In this time, Rome went from being a formidable city-state in Italy to the undisputed master of the ancient Mediterannean world. Voulez les bon temps rouler, non?

Well, the definition of this period as a "good time" really depended on who you were in Roman society. For the Roman Senate, these were great times. Through conquest and forfeit, millions of acres of territory had come into their posession as "public lands" which they redistributed and rented out to clients "for the good of the republic." (Senators, prohibited from holding a trade, were an investor and landlord class.) Classical art and treasure was pouring into the city from the recently-conquered Greek and Hellenistic world, as well as thousands upon thousands of Greek and Hellenistic slaves. For these guys, times were the worst of the worst. If they were fortunate, they were put to work as tutors or domestic servants ("servus" = slave in Latin) in senatorial households. If they were less fortunate, they were sent to burgeoning farms the senators were building on the previously-mentioned "public lands," mostly in Sicily. (These were the predecessors to the truly massive latifundia that would start appearing during the high empire.) If they were really unfortunate, they would be shipped to the gold and silver mines in Spain, where life expectancies ranged from a matter of months to a year.

​If you belonged to a class somewhere between senator and slave, then things could go either way. Sure, the growth and proliferation of these large farms drove down the price of grain for the average Roman. However, if you were a Roman farmer, these farms were likely driving you out of business. We'll examine the corrosive effect this had on Roman democracy in a moment.
---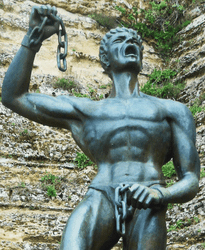 Let's focus for now on these enormous Sicilian farms, which were creating more immediate problems. As mentioned earlier, Sicily ended up being the destination for most of the recently-acquired slaves in the mid-second century B.C. Slave farming operations had turned the island into the breadbasket of the republic. It had also driven small farmers off of their lands and out of business as the farms grew and expanded. The combination of a large, poorly-treated captive population and a disgruntled local population reached a critical mass in 135 B.C. when a massive slave revolt erupted. Historians, in a likely fit of hyperbole, claimed that an army of between 70,000 and 200,000 ravaged the island for three years before the legions were able to stamp it out. Whatever the numbers, it was a huge revolt, and it has been suggested that part of the reason it lasted so long is that it had tacit popular support among the Sicilian poor and expropriated. At any rate, the suppression of this revolt did nothing to improve circumstances, and both Sicily and Italy were ravaged by two more slave wars in the next 60 years. We'll return to the third and final slave war, along with its famous leader, in a later segment.
---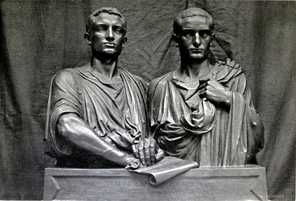 Meanwhile, the growing economic inequality was creating a different problem in Rome. Landless Romans and Italians, put out of business by Senate farmers and out of their homes by Senate landlords, crowded into Rome, creating a large, under-represented and very angry faction, clamoring for relief from the crushing financial pressure of the upper classes. In addition to the social situation, the swelling itinerant population was also creating a recruitment crisis for the Roman army, as only property owners were eligible for military service.

Enter Tiberius Sempronius Gracchus, newly-elected tribune of the plebs for 133 B.C. Tiberius was a reform-minded politician eager to balance the scales of society and right the listing ship of state. He proposed a law, the Lex Sempronia Agraria, allowing for a more egalitarian distribution of land and creating a new pool of landowners for taxation and recruitment. Like any idealistic, energetic young politician in his first try at legislating, he was promptly gobsmacked by the powers-that-be. The landowning senators attacked him as an instigator of class warfare and tyrannical wealth redistribution, and versions of the Lex Sempronia were either ignored or blocked outright.
However, a loophole in Roman law allowed Tiberius to sidestep the Senate entirely and take his case to the Plebeian Council, Rome's popular assembly. This infuriated the Senate, and they tried to block the law from being passed by leaning on another tribune, Octavius, to veto its presentation to the Council. This is where things got nasty: Tiberius appealed to the Council to strip Octavius of his tribunician powers as a traitor to the plebs. Octavius vetoed the Council's vote to depose him. Tiberius ordered one of his slaves to seize Octavius and throw him bodily out of the assembly so they could vote on deposing him. Thus, the Lex Sempronia was also passed.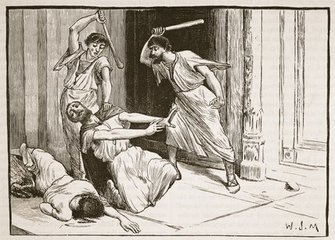 Let's not get the idea, however, that this defeated the Senate. It simply drove them to more drastic measures...much more drastic. When Tiberius successfully seized funds from the Senate to fund the land distribution law, the Senate implemented a whisper campaign that Tiberius had committed a criminal act in laying hands on his fellow tribune, and that he had ambitions to become king. This created a perilous situation for the tribune, requiring him to be protected by armed guards at all times. Tensions continued to build between them until an armed senatorial mob stormed Tiberius's house, bludgeoning him and 300 of his supporters to death with furniture pieces and throwing their bodies into the Tiber. The Senate banished the rest of his supporters or executed them by sewing them into a bag with poisonous
​vipers (!).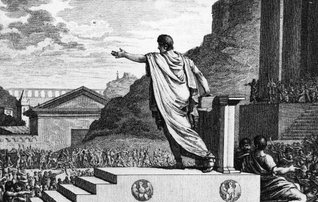 Strangely possessed with a sense of shame over the blatant murder of a public official, the Senate allowed the Lex Sempronia to stand to appease the populace. This no doubt encouraged Tiberius's brother Gaius to enter politics ten years later with an even more radical tribunician agenda. He brought about sweeping changes to the judiciary, to prevent unjust sentences such as the kind leveled upon his late brother's followers. He broadened the Lex Sempronia, shortened military drafts, and attacked the Senate's power base at all levels of government.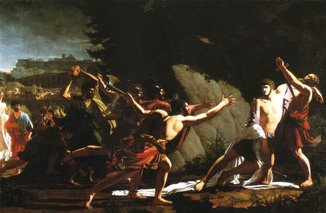 The Senate, again, oddly squeamish, attempted at first to use conventional methods to destroy their new mortal enemy: backing a rival tribune to sabotage as much of Gaius's legislation as possible, while supporting a consul running on a "repeal-and-replace" platform. They seeded dissent against him among other tribunes, which Gaius himself exacerbated by backing an unpopular motion to grant Roman citizenship to all Italians. Due to this and other conflicts, Plutarch claims his fellow tribunes illegally thwarted his election to a new term by falsifying ballots.

Gaius's ejection from the tribuneship opened the way for the Senate to begin repealing his legislation. However, on the day the repeal was meant to happen, the servant of Gaius's senatorial arch-enemy, Opimius, was killed in a scuffle with Gaius's supporters. This was the moment the Senate was waiting for to end Gaius, and they collectively howled for his blood. After intense negotiation, Opimius advanced on Gaius with mercenary archers (!), killing dozens and driving Gaius from the city. Gaius took his own life before the Senate mob could catch him.

Gaius's head was cut off and carried to Opimius, who had promised its weight in gold to whoever retrieved it. (This offer was rescinded when it was discovered its retriever had filled it with molten lead to increase his reward.) History continued to repeat itself: Gaius's supporters were killed, exiled, or put into snake-sacks and tossed into the Tiber. Gaius's laws were repealed wholesale, and Gaius's widow was forbidden to mourn his death. The threat to the Senate's power was nipped in the bud.
---

Or was it? The Senate had established an extremely dangerous precedent: any lawmaker who wanted to challenge their power now risked his own life. The rule of law was being replaced with a tyranny of violence and murder, and anyone who desired meaningful change would have to respond in kind.

That someone was Gaius Marius. We'll examine his contributions in the next segment, as the decline of the Republic kicks into high gear.
NEXT: BATTLE LINES BEING DRAWN