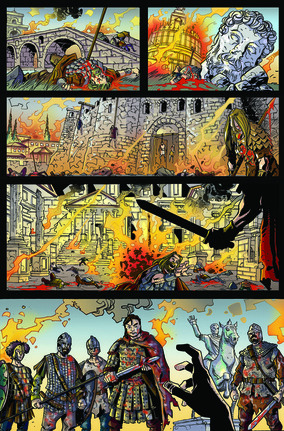 Color by the very talented F. Caracuzzo.
I'd like to start by giving another shout-out to Flavia Caracuzzo, the exceptionally talented colorist and daughter of
Giancarlo Caracuzzo
who has graced my book with her brilliant hues!
Second, I'd like to tell you about a competition I have entered
Amiculus
in, and how you can support me with just your vote!
UcreateComics
is a comic book competition
site backed by Kevin Smith and Neil Adams of DC fame
where writers, artists, and fans pitch to win their share of the UcreateComics Million Dollar Fund and make their comic book dreams a reality. They
accept concept pitches for comic book series, graphic novels, etc. Members of Ucreate vote to decide the winners, and the one with the most votes receives a
comic book development deal for his pitch!
The competition I have entered begins in roughly two weeks. If it succeeds, this would be an incredible boost to this project, and a way to bring Amiculus to fruition that much sooner. If you have liked what this project has offered thus far, I recommend checking out the site. (You do have to sign up as a member to vote, which I hope isn't a detraction.)
I'll announce when Amiculus appears there. Thanks so much for your support!
Other sites to check out re: Ucreate:
http://www.ucreatecomicsevents.com/about/