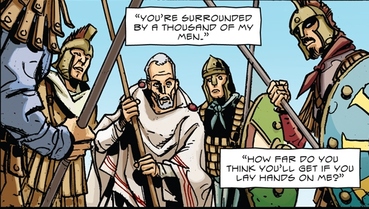 See? You barely noticed it, didn't you? (See below.)
Once again, it is time to showcase a member of my intrepid and talented creative team. This time, it's Frank Cvetkovic's turn, whether he likes it or not.

In his own (criminally modest) words, Frank is a comic book letterer whose work has appeared in ARTFUL DAGGERS, THE BLACK WRAITH, FIRESIDE MAGAZINE, KUNG FU SKRATCH!, MOLLY DANGER, NENETL OF THE FORGOTTEN SPIRITS, and THE INSIDE. He is also the writer and creator of the original graphic novel PUNCH-UP. He currently lives in Cleveland, OH, where the home teams never win and the rivers occasionally catch fire.

Frank is also the letterer for Amiculus: A Secret History. He's the guy who makes my words look good on the page. From the responses I've been getting from the initial pages, he's doing a damn good job at it, as not a single person has noticed how barely passable my dialogue is.

In all seriousness, Frank is a true professional, and a gifted writer. His webcomic, PUNCH-UP, is a wickedly sardonic story of a perennial loser who has made career for himself in the only profession he's been good at since high school: as a human punching-bag. Wherever there's a drunken bar fight, a jealous husband, or someone looking to put the hurt on someone else, this guy is there to take the beating if the money's right. Currently, the webcomic is on hiatus as Frank considers his own Kickstarter, but believe me, it is choice storytelling.