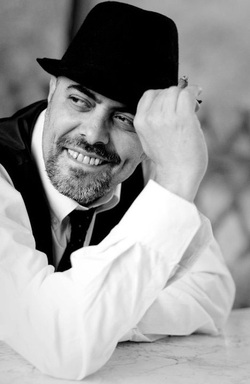 I'd like to take the opportunity, before launching in any further, to pay homage to the amazing talent that is Signor Caracuzzo. It is an understatement to say this man knows his way around a comic page. No matter the subject - space battles with xenocidal aliens, a wild romp across a tropical paradise with zombies literally nipping at your heels, or the quasi-mythological epic of an Egyptian queen - Giancarlo brings it bursting from the page with the urgent, frenetic vibrancy and dazzling color that is his signature style, the same style with which he has blessed my book. Simply seeing
Amiculus
brought to life on the page would have been thrilling enough; in his hands, I can imagine the furthest, most epic limits of its potential.
Here are a few of his books I'd highly recommend: Marvel's
Formic Wars
duology, adapted from Orson Scott Card's prequels to
Ender's Game;
IDW's
The Last Resort
, that zombie romp in paradise I mentioned. I'd also like to recommend checking out an upcoming project of his, currently featured triumphantly on Kickstarter:
Weapon of God
, a collaboration with writer Jimmy Palmiotti.