Procopius asks the question...
---
---
Hey, kids! It's time again for a
ROMAN DEBAUCHERY FUN FACT EXTRA!!! YAAAAAAAY!
This one comes courtesy of
Amiculus: A Secret History's
own
Procopius of Caesarea
, posing the following theory in his most famous work,
The Secret History:
---
PROVING THAT JUSTINIAN AND THEODORA
WERE ACTUALLY FIENDS IN HUMAN FORM
---
To be fair, Procopius has a serious axe to grind against the Eastern Roman (Byzantine) emperor Justinian. Every page of The Secret History drips with his frothing spittle as he breathlessly accuses Justinian of venality, corruption, devastation, murder, rape, blood-lust, fires, floods, plagues, earthquakes, and clubbing a dolphin to death with a baby seal while eating a puppy burrito. Procopius also manages to call Justinian every name except Poopy-Pants Butt-Head, which he might have had to resort to if The Secret History was any longer.
---
---
So why should it surprise anyone that he actually accuses both Justinian and his wife Theodora (he hated her, too) of being more than just a couple of PPBHs,
but actual, literal demons in human form?
He does this indeed, and even quotes supposed witnesses of their demonic acts in the process.
---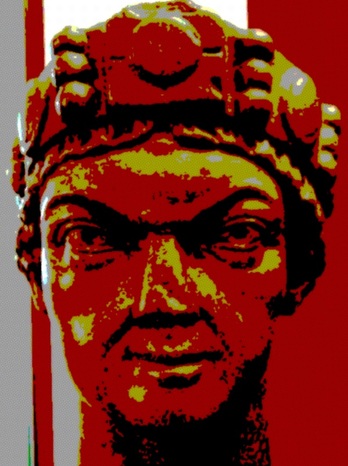 "Who, me?" A bust of Justinian, carved by a man who, apparently, was more than a passing judge of character.
---
I won't go into all the details, just the most salacious ones:
That Justinian's own mother supposedly claimed he was the son of a demon, an incubus who "was there with her as a man...and then disappeared as in a dream";
That a holy man who went to see Justinian was seized "like a man who had suffered a stroke" upon entering the throne room, and then "declared outright that he had seen the Lord of the Demons in the Palace sitting on the throne";
That friends of the emperor, when meeting with him late at night, saw his head vanish from his shoulders and reappear as he walked about the room;
That his face would periodically melt into "featureless flesh; for neither eyebrows nor eyes were in their proper place, nor did it shew any other means of identification whatsoever" and then slowly reform;
That Theodora had been prophesied to marry the Lord of Demons, and that when she was an actress on the stage (yes!), she would be visited by a demon that would swoop down on her and drive all others from the room.
---
---
All of this clearly explained the parade of disasters that afflicted the empire during their reign: what else could you expect from a pair of jokers who spent all their down-time giving mani-pedis to the Lord of Darkness? Hard to say how much of this Procopius actually believed, although he clearly feared the emperor's wrath, waiting until a few years after his death to shed the light on Justinian's cloven hooves and prehensile tail.

The thing about a demon-in-human-form is: they aren't known to die in the fashion that we humans do, are they? Procopius reputedly only outlived Justinian by a few years. Perhaps a copy of The Secret History made its way down to Gehenna, and Justinian decided to make a comeback to retrieve Procopius's "autograph?"
---