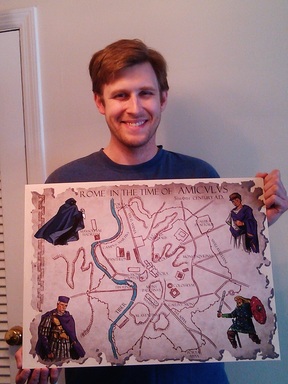 As you can see,
the Amiculus campaign continues to grow
, albeit a little slower than hoped. Therefore, I'd like to bump things up a bit to reward those of you who backed so far and to make things a little more exciting for backers-to-be.
I'd like to announce that, upon the successful completion of the campaign, ALL backers at the $15.00 level and higher will receive the 80-page Kickstarter edition version of Vol. I in place of the 60-page book! This includes additional art, content and an 8-page sneak preview of
Amiculus: Vol. II.
Backers at $5.00 and up will receive the Kickstarter version of the PDF.
For backers at the $75.00 level and up who will already be receiving the Kickstarter edition book, I am including an 18 x 24 poster version of "Rome in the Time of Amiculus," the hand-drawn map of Rome, as an incentive. This will also appear on the inside cover of Vol. I. Plus, the map will be signed by
both
Giancarlo Caracuzzo
and myself!
Thanks so much for your support! Keep spreading the word!