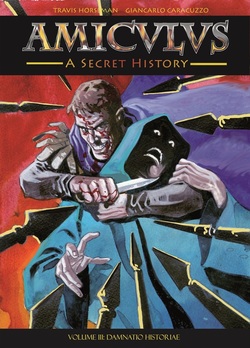 Salvete, Amiculi! Welcome to the next phase of the Amiculus series!

It's entirely possible, if you are a recipient of my just-issued newsletter or a backer of a previous Kickstarter, that you have heard the news at this point, but let me reiterate for those who are unaware: the campaign for the climactic installment of the Amiculus Trilogy will launch on Kickstarter on September 7, 2016!

​In Volume III, The hour of Rome's fall has come. The mysterious saboteur Amiculus has played his games, and prepares to deliver the death blow to the mightiest empire the world has ever known. Yet Rome and her defenders still have weapons in their arsenal, and these will be used to bloody effect before all secrets, including the identity of Amiculus, are finally revealed.
In the three months between now and then, I'll be posting regular announcements, such as upcoming conventions (come see me at
Derby City Comic Con
in Louisville on June 25-26!), videos (such as a video interview
with Giancarlo in Rome in July!), and the unveiling of the Volume III trailer! I'll also be previewing Volume III art and planned rewards for the upcoming campaign.
So let me welcome you to the next leg of this amazing journey. I look forward to reaching the Eternal City with you in triumph in September!

Postea continuendum...