PART VI: THE ARRIVAL OF THE HAIRY MAN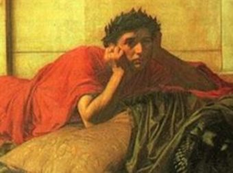 In ancient Roman culture, all men had two names, and some had three or more. The first name was the praenomen, one of about twenty or so first names that every man had as a formality. The second name was the nomen, the family name, which told which gens, or clan, you came from. The third name was the cognomen, a nickname that was ascribed to you, or, in later history, one inherited from an ancestor to identify your branch of the gens.

Today, we recognize ancient Romans most readily by their cognomen. When translated, a lot of them sound oddly similar to old-fashioned mob nicknames, such as Caligula ("Little Boots"), Cicero ("Chickpea"), and Scaevola ("Left-Handed"). However, the most famous of these cognomen, and one of the strangest under the circumstances, is also believed to mean "Hairy":
And no bearer of this cognomen leaps more immediately to mind than the man who signaled the beginning of the end of Rome's republic: GAIUS JULIUS CAESAR.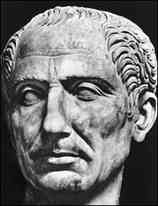 Yet for the first forty years of his life, this man with the famous (if silly out-of-context) name did little of historical note. Born circa 100 B.C., he hailed from an old if undistinguished patrician family whose fortunes were beginning to rise around the time of his birth. (Tellingly, Caesar's uncle was none other than Gaius Marius.) Caesar's personal fortunes took a dive when his father died when he was just 15, and went into free-fall after his uncle's faction was annihilated by Sulla. Offered the choice of divorcing his wife (the daughter of a Marian ally) and losing his life, Caesar did neither and went into hiding, and his inheritance was confiscated. He was only pardoned after the vociferous lobbying of his mother's family, which included prominent Sullan allies. Sulla did this reluctantly, and was reputed to say he saw "many a Marius" in Caesar.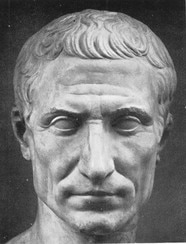 Even after Sulla died, Caesar's career only managed to bump along for the next decade. He served with distinction in the army, was captured by pirates, was freed, hunted down the pirates with his own resources and had them crucified, and eventually began a political career around the age of 30. Caesar did not lack for ambition. Yet his relative lack of success was stark next to that of his contemporaries Crassus and Pompey. Encountering a statue of Alexander the Great in Spain, he broke down weeping upon realizing how much Alexander had achieved, while he by the same age had done nothing.

Perhaps this was the moment that galvanized him, and drove his rapacious arc through the Senate over the next decade. Caesar was nothing if not a student of history, and history had taught him the following: the Senate had lost the ability to govern the empire; institutions of government were only as strong as the will to preserve them; and a man backed by troops and popular support could do whatever he liked. Every move he made from this point on was not to replicate the achievements of Crassus and Pompey, but to surpass them.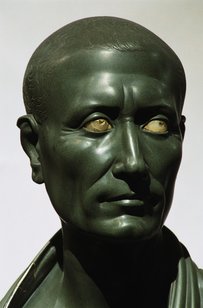 Caesar churned through the Senate during the 60s B.C. as a one-man political machine. He wormed his way into Crassus's confidence and, bankrolled by the plutocrat's vast wealth, cut deals, forged alliances, made bribes, and aligned himself with anyone who could advance him another step up the ladder toward the consulship. He surprised his contemporaries by defeating two powerful opponents in the election for chief priest, elections that were marred by bitter accusations of bribery from both sides. He made a few missteps, aligning himself with the would-be usurper Catiline in 63 B.C. Yet slick as ever, he avoided being labeled as a co-conspirator. During this period, he also positioned himself as one of the populares, a step toward earning the favor of the common people, and Crassus's wealth went a good distance in greasing these wheels as well.

Yet the act that cemented his standing and secured a base of power was the alliance he secured between Crassus and Pompey in 60 B.C., who had been bitter rivals since their consulship. Between the three of them, there was enough gold, swords and political will to master the Senate and Rome. This alliance was referred to by historians as the First Triumvirate ("Rule of Three Men"), and it was with this unchecked political capital that the beast was finally unleashed.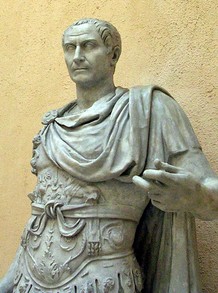 The consular elections of 60 B.C. were the nastiest, most sordid and brutal elections the Romans had seen in years. Caesar was determined to become consul, and his optimate opponents, who loathed him, were determined to defeat him, with even the reputedly-incorruptible Cato resorting to bribery to advance one of Caesar's opponents. Yet it was all in vain. Caesar was elected consul for the year 59 B.C., and from here, the gloves were off. With Pompey's troops stationed throughout the city as intimidation, he rammed a populist bill redistributing public lands to the poor through the Senate against the loud protests of the optimates. After all, this was the sort of thing they had murdered the Gracchi for seventy years earlier. Now the shoe was on the other foot. They implored Caesar's co-consul Bibulus to stop him, but when he tried, he was assaulted by Caesar's supporters, who dumped a large basket of manure on his head and wounded two magistrates accompanying him. Bibulus fled to his home and did not return for the rest of his consulship, leaving Caesar unimpeded.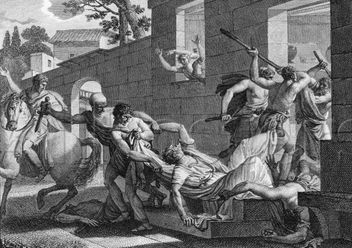 Unfortunately for him, consulships only lasted a single year. Once he was out of office, he was no longer immune to prosecution by his enemies, who were chomping at the bit to attack him with the full force of the law. However, it was common practice for consuls to govern a foreign province in the year following their term, thus extending their immunity. Caesar outmaneuvered his enemies in three ways: he had his term governing a province extended from one year to five; he successfully wrangled control of three provinces instead of one, which included the command of four legions; and he orchestrated the election of his ally, Publius Clodius Pulcher, as tribune of the plebs. Clodius could veto any attempt by the Senate to prosecute Caesar or repeal his laws. In addition, Clodius was a massively destabilizing presence in the city, fully embracing violence and intimidation as a tactic against his (and Caesar's) opponents. One of his victims was the former savior of Rome, Cicero, whom he successfully drove into banishment and confiscated his property. Against the evil genius of Caesar, there seemed to be no resistance.
With Rome secure at his back, Gaius Julius Caesar marched off to govern Cisalpine Gaul in 58 B.C. Having bent the Roman state to his will, he was now ready for his military career to truly begin. It is at this point that the image of Caesar the world knows, and has even admired, comes into view: the larger-than-life colossus bestriding the world with his armies, the brilliant general seizing his destiny. The collateral damage, apart from thousands of Roman and non-Roman lives, would be nothing less than Rome's tradition of representative government.
NEXT: THE HAIRY MAN GOES TO WAR