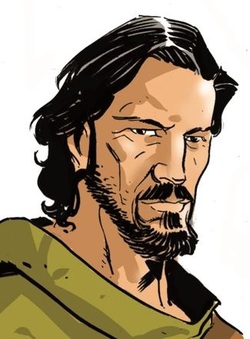 Procopius of Caesarea (A.D. 500-562)
I feel like I should acknowledge this, because there is a very specific reason that I only hint at in the series for why I chose to title my work "A Secret History."

The Secret History is the name of the most famous work by one of my main characters, the real-life historian Procopius of Caesarea. I relied on another of his works, The Gothic Wars, as a primary source for events in Amiculus.

Procopius, however, had not written his Secret History at the point he appears in my series. The man featured here, who is in the process of writing The Gothic Wars, seems fervently patriotic, an idealistic believer in the cause for which the Eastern Romans are burning Italy to the ground. His patrons, the general Belisarius and the emperor Justinian, are saviors, reuniting the broken halves of the empire.

By the time of The Secret History, Procopius was a different man. The writer who had hailed Belisarius and Justinian as saviors now savaged them as ruinous villains, evil tyrants, cuckolds to scheming wives, even devils in human form. (My favorite part is a story of how Justinian made his head disappear and reappear several times during a meeting with the Senate!) Something had happened in the intervening years to made Procopius bitter, disillusioned and furious with his masters, in despair for the empire whose rebirth he believed was certain only a decade earlier.

I'd like to think Amiculus, and Romulus's (secret) history, could have been the catalyst for that.