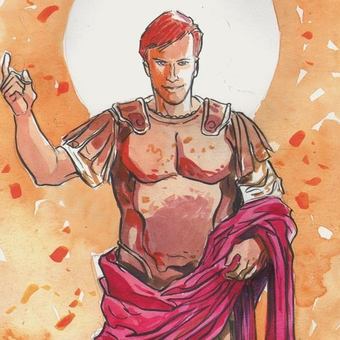 Salvete, Amiculi!

Guess what time it is?

ROMAN DEBAUCHERY FUN FACT TIME!!!

And you know what is especially fun about this Fun Fact?

IT'S ABOUT ME!!!

(Sort of.)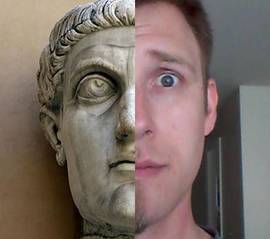 So anyway, to preface things, my mom is really into genealogy. I mean, REALLY into it. She has spent the past 15-20 years scouring every database imaginable, sending into every DNA test available, trying to track down our family's farthest-flung ancestors in the deepest recesses of history. And it's taken her down some pretty weird rabbit holes.

A few days ago, she calls me with a somewhat strange question: "Did Constantine the Great ever spend time in Britain?" This is strange for her, as she could normally care less about Roman history, but when she needs to know things about it, she naturally calls me. I answered yes, he did spend time in Britain. "HOLY CRAP!" she yells into the phone. "WE'RE RELATED TO CONSTANTINE THE GREAT!"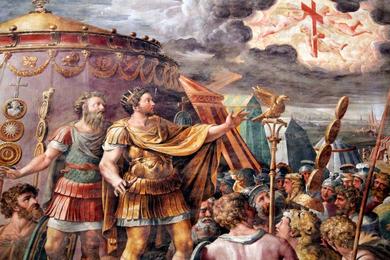 Once my ears had stopped ringing, I asked her how she could possibly know that. She told me that, on a new ancestry site she had been exploring, she followed one branch of the family that went much, much farther back than the rest, and had discovered an unbroken line of forbears that ended with the first Christian Roman Emperor. The guy who saw a cross in the sky, got religion in a day and gave it to the rest of the Roman Empire and eventually a third of the world. Yeah. THAT guy.

Admittedly, I was skeptical. I knew these ancestry databases could be thorough, and some people are able to trace their families back almost a thousand years. But Constantine? Anything that far back seemed impossible. The centuries following Rome's fall were called the Dark Ages for a reason, after all.

​I asked her to show me the site. She provided me with some screenshots of her search, which I included below with some arrows clarifying the line in question: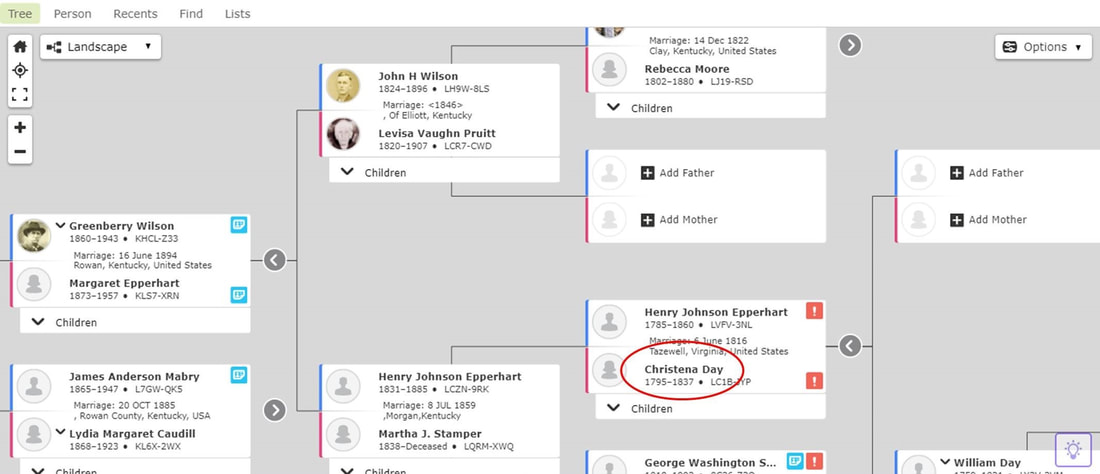 The circled name, Christena Day, is at the beginning of the bloodline she followed, from my grandfather's mother's line...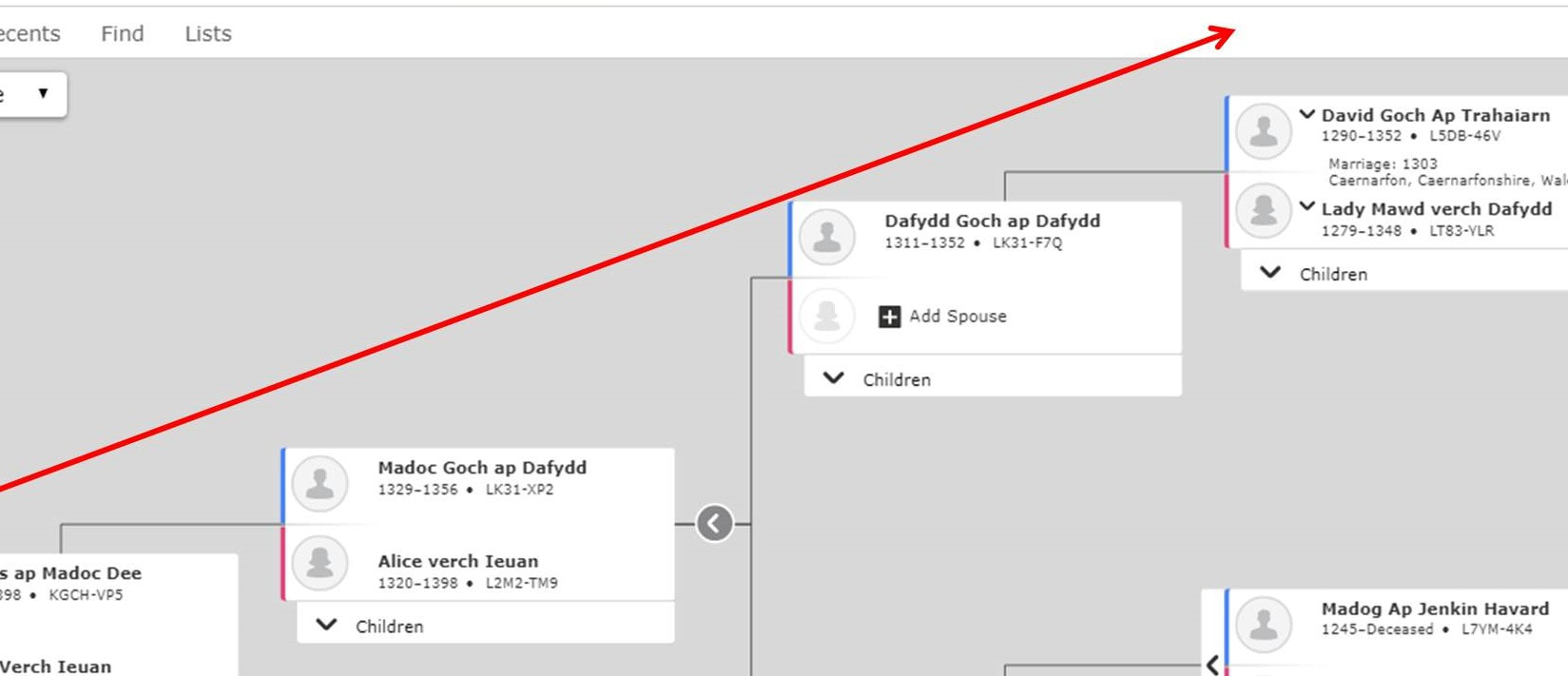 14th, 13th, 12th...Dee becomes...Dafydd? Trahaiarn? How do you pronounce that? It's getting very Welsh in here all of a sudden...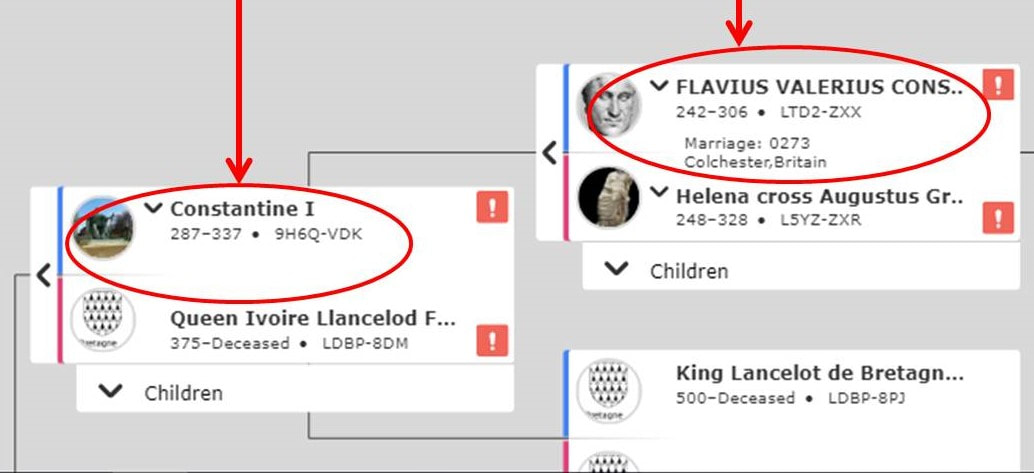 OH MY GOD! Constantine I...Father, Constantius Chlorus...Mother Helena...it checks out! This is amazing! How did they make that connection? I may have skipped over that bit...I'll just check to the left and...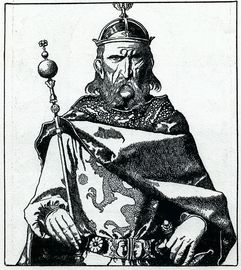 It's interesting to note that they didn't include Arthur Pendragon in the genealogy. I guess they figured having one mythical figure in the family tree was acceptable, but two was just crazy! Also, is anyone wondering how Constantine supposedly managed to sire Uther over seventy years after he died, or how Ol' Stonestabber managed to have a daughter over 700 years after his death? I don't remember reading that in Le Morte D'Arthur.

It's also worth noting that the timeline gets Constantine's birth year wrong, too, and shows his father marrying his mother a year after his birth, although this by itself is not disqualifying.

But that's not all...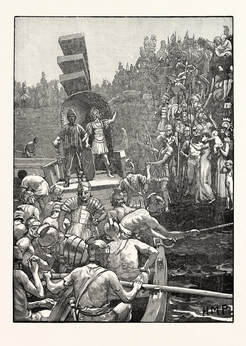 In addition to inserting King Arthur's dad in the timeline, the genealogy gets its Constantines completely mixed-up. According to Geoffrey of Monmouth, Uther's father was not Constantine the Great, or any member or descendant of the first Christian emperor's family, but the so-called Constantine III, a usurper emperor who did Britain the enormous favor of taking the last of its Roman garrison and abandoning the country in an ill-fated march on Rome.

Of course, Geoffrey seems a little confused about his Constantines as well. He refers to Constantine III as Constantine, or Custennin, the Second of Britain, and it is suggested that he may have mixed up the Roman usurper with a British king of Dumnonia. (Jamie Delano wrote a very diverting story about this king in the DC/Vertigo series Hellblazer, presenting him as an early ancestor of John Constantine.)

I suspect there was a legitimizing factor for a British/English king who could claim to be descended from Roman imperial blood, leading early kings to follow (and invent) their own tenuous ancestral connections to famous Caesars.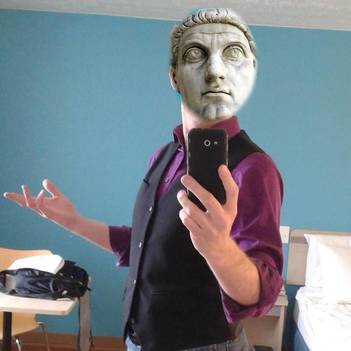 All said, it shows that this sort of genealogical resume-padding has a long and colorful history. Mom actually noticed this little sticking point about the same time that I did, and while it was a little disappointing, it is a relief to not feel pressure to measure up the standards of such illustrious ancestors.

​Or vice versa.