PART V: NOBODY'S RIGHT IF EVERYBODY'S WRONG
---
---
The segment to come is context. Context for things to come. This does not mean that it is unimportant in itself. Some exceptionally dramatic things happen in the eighteen years following Sulla's death, involving earth-shakingly huge figures on the world stage. Nonetheless, they are here to serve as context for an even bigger one, one that no one saw coming.

​But for now, context.
---
In our last segment, the year was 78 B.C., and the dictator Cornelius Sulla had decidedly pinned the Roman Republic under his thumb. The faction of Gaius Marius had been smashed and scattered to the winds. The representatives of the people, the tribunes, and their nominally-supportive Senate allies, the populares, had been vanquished, and the conservative optimates reigned supreme. Well-pleased with his work wiping out any and all progressive gains from the past 200 years, Sulla had retired from public life and promptly died, presumably happy and secure in the belief that his changes were secure and immutable.

Ohhhh, Sully...
As with other men and mice, all of Sulla's well-laid plans would come to nothing. Their undoing would come at the hands of a new, ambitious generation of senators, some who wished to emulate his path to one-man rule and a few who sought to defend against it. The three men below would come to define this struggle for the destruction or salvation of the Republic:
---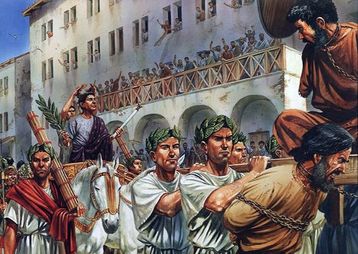 The first and most pre-eminent of these men, Gnaeus Pompeius Magnus, was one of Sulla's lieutenants. Throwing in with Sulla during the wars with Marius, he so impressed the dictator that he was gifted with the title Magnus: "The Great." Handsome and hugely-skilled in the arts of war (he was compared in looks and talent to a latter-day Alexander the Great), Pompey the Great was showered with prestigious commands, honors and even the consulship in spite of the fact that he had never served a day in the Senate and was technically ineligible to hold office. These extra-legal honors greatly troubled the senators not enraptured with him, and they saw him very much for what he was: an opportunistic strongman-in-the-making.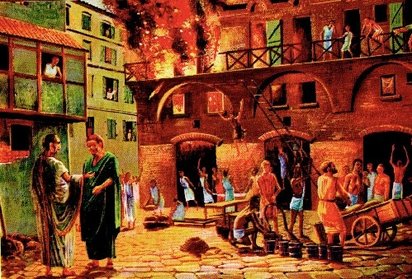 Marcus Licinius Crassus was several rungs down the ladder from Pompey in popularity, but was unrivaled in Rome for his wealth, and wielded it similarly to the way Pompey did command. He used Sulla's vicious proscriptions to buy up the valuable property of executed Romans for cheap. He established Rome's first fire brigade from an army of 500 slaves, who would rush to burning homes but then refuse to put them out until the owners agreed to pay Crassus an exorbitant fee. Crassus also bought burnt and collapsed properties and rebuilt them with slave architects and laborers, flipping them for huge profits. In modern dollars, Crassus's fortune is estimated to have been worth $8.4 billion, a staggering personal sum now as then.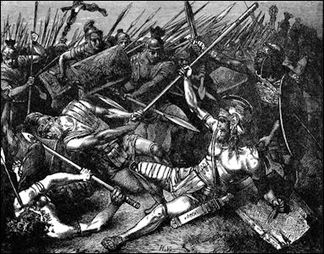 Pompey and Crassus first became associates during a festive romp known as the Third Servile War (See Part III), or, as it is more popularly known, the Revolt of Spartacus. In 71 B.C., an army of escaped gladiators, slaves and other ne'er-do-wells had ravaged central Italy for two years.This army, reputed to be over 120,000 strong, was led by a Thracian gladiator named Spartacus. Under his brilliant tactical leadership, the slave army had routed four Roman armies and, according to some, was poised to march on Rome. The Senate chose Crassus to lead a fifth army, as he was the only one who volunteered for the job. For most of 71, he pursued Spartacus across central and southern Italy, nearly losing six of his legions in a rout at one point. Finally, he managed to pin the slave army into the toe of Italy, and waited for them to starve or surrender.
| | |
| --- | --- |
| Then word came that Pompey was on his way, fresh from victory in Spain, to "help" Crassus seal his victory. Crassus was in no mood to share, so he attacked Spartacus, shredding his army in a battle royale at the River Sale. Pompey showed up just in time to mop up the remnants. According to Appian, Spartacus's body was never found (and not because a bunch of slaves claimed to "be" him, either.) Crassus had six thousand surviving slaves crucified along the road between Rome and Capua. Their bodies were left to rot long after they died, sending a chilling warning to other slaves with ambitions of freedom. | |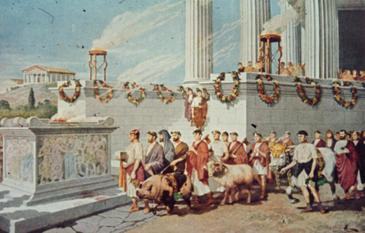 These two very powerful, influential men were duly elected as co-consuls for the year 70 B.C. So, when unparalleled plutocratic wealth and overweening military might come together in government and have a baby, what does it look like? To begin with, very bad for the status quo. Crassus and Pompey immediately started fighting with each other after Pompey tried to claim the credit for defeating Spartacus. They refused to disband their armies, and appeared at one point on the brink of open warfare. However, an agreement was found (in this instance, at least): Pompey accepted a triumph for his victory in Spain, and Crassus accepted a lesser honor, an ovation, for his victory over the slave army.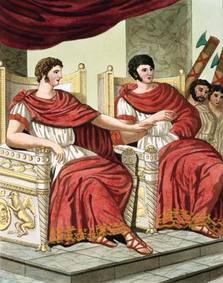 According to Plutarch, not much of consequence was achieved during Pompey and Crassus's consulship, as they continued to squabble and oppose one another. However, they must have gotten along at some point, as nearly all of Sulla's reforms gutting the office of tribune and plebeian council were repealed during their tenure. This restoration of the tribunate would have been bitterly opposed by the Optimates in the Senate, but wildly popular among the common people, which may have been the point all along.

Following the consulship, Crassus faded into the background somewhat, content to grow his fortune and use it to influence the Senate and foster the careers of certain unsavory up-and-comers (who we will touch on later). Pompey, on the other hand, rode his consular wave of popularity to even greater heights. In 67 B.C., the Senate granted him unprecedented military authority to sweep the Mediterranean clean of pirates, who plagued the seaways at this time. Pompey was reputed to have succeeded in a matter of months, but he wasn't done there. Pompey's pirate-hunting operation turned into a case of mission creep on steroids, as he turned his wrath against the pirates' sponsor in the East, Rome's old enemy Mithridates of Pontus. In the course of his war against Pontus, the nations of Armenia, Cappadocia, Parthia, Syria, Colchis, Nabataea and Judea were dragged into the melee. Three years later, huge swaths of Asia Minor and the Middle East had become Roman territory, and Pompey was hailed as the greatest general of his age, and recognized by all as the most powerful man in Rome.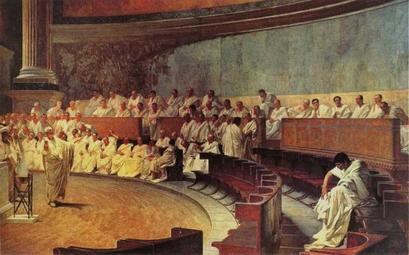 And what of Marcus Tullius Cicero, whom we mentioned earlier? His rise took place slightly after Crassus and Pompey, and could not have been more different in its path. A "new man" of the Senate, he was a staunch believer in the traditions of the Republic, pursuing his path to the consulship via the cursus honorum, the prescribed path laid out by ancient custom. Cicero was a brilliant orator and writer, and according to some reshaped the Latin language with his words the same way Shakespeare remade English. He used these words to ardently defend the Republic from her enemies, namely those who would see Rome reduced to one-man rule.

In the year of his consulship (63 B.C.), he demonstrated precisely this quality in his revelation of the plot of Lucius Sergius Catilina (or Catiline). In a series of four powerful speeches to the Senate, Cicero revealed that Cataline plotted to murder him and overthrow the Republic with the support of foreign troops. Catiline, who was the scion of one of Rome's oldest families, attempted to discredit Cicero by claiming this "new man" was maligning his ancestral dignity from jealousy, and thus insulting the Senate at large. Yet Cicero so skillfully dismantled Catiline's character that he utterly destroyed any support for him in the Senate and drove him from the city. Catiline was later killed in battle against Roman legions, and his co-conspirators were rounded up and executed (disturbingly, without trial.) Cicero was hailed as "father of his country," and a contemporary could reasonably claim that this was a man who could stand against the creeping ambitions of senators such as Crassus and Pompey, and hold the state secure against any assault.
But as I mentioned earlier, all of this is merely context, the setting of the stage for a new figure who has been conspicuously absent thus far. He doesn't come out of nowhere; he has always been there, watching, waiting, patiently calculating and preparing for his moment to emerge from the shadows. No one has thought terribly much of him up to this point; he isn't rich, he has no illustrious military background or oratory fame. He doesn't really seem to have achieved much of any importance in his life. But in 60 B.C., he reveals himself to be far more formidable than anyone ever guessed, and in a short time, to be the greatest danger the Republic had ever faced.