PART VIII: THE HAIRY MAN GOES TO WAR (2)
When last we left our intrepid Hairy Man, it was 49 B.C., and he was crouched in Cisalpine Gaul like a spider, ready to descend into Italy with his army in an act of war against the Senate and the people of Rome. However, we are not ready to cross this Rubicon yet. Before we can irrevocably cast the die, we must rewind seven years and revisit the rest of the supporting cast in Gaius Julius Caesar's tragicomedy, namely our old friends Pompey, Crassus and Cicero.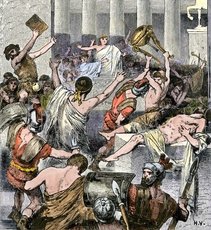 Julius Caesar was a master multi-tasker two millennia before the term would even be conceived, keeping plates spinning from one end of the Roman world to the other, maintaining his hegemony as he fought his war in Gaul. However, one of these plates started to wobble badly almost as soon as he left Rome. Clodius Pulcher, the hedonistic aristocrat-turned-tribune Caesar had used to avoid prosecution, had very nearly gone mad with power. He ran roughshod across Rome, using gangs of thugs to enforce his will and to attack and harass anyone who crossed him. He had turned on Pompey after the general had dared to criticize his excesses, laying siege to him in his own home with his gang army and even attempting an assassination. This led to Pompey raising his own gangs to combat Clodius, with titanic violence breaking out every time a vote on legislation came to the Senate or the tribunal. Crassus played both sides against the middle, angering Pompey and threatening the Triumvirate. Somewhere in all of this, Clodius turned against Caesar and tried to have all of his legislation declared illegal. Something had to be done.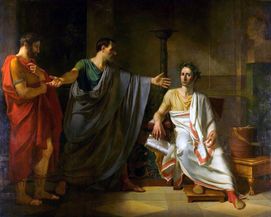 In 56 B.C., Caesar called Pompey and Crassus to the northern Italian city of Lucca to save their three-way bromance. Caesar arranged for the two to run jointly for the consulship in 55 B.C. Caesar would send thousands of his own soldiers to Rome to vote for them. Following this, Crassus would be awarded control of the province of Syria, and Pompey would be allowed to retain his political stronghold in Spain. In exchange for this, Pompey and Crassus would extend Caesar's provincial control for another five years. A new deal was struck, and there were kisses all around.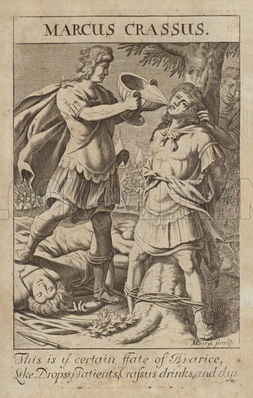 Yet despite his efforts, this Romancing of the Bros began to fall apart only a few years later, culminating with the death of Crassus. Crassus had very good reason to want control of Syria. It was to be the staging ground for his massive invasion of the Parthian Empire (modern Iraq and Iran). Crassus, though wildly successful in all realms fiduciary, could never get past his crazy jealousy of his fellow triumvirs' military glory, of which he had none. No matter how many times they told him how pretty he was, this insecurity gnawed, and from this came his idea to confront one of Rome's last great rivals in an unprovoked attack.
Unfortunately, an army and a chip on your shoulder does not a brilliant general make, and in 53 B.C., Crassus very quickly blundered into trouble only shortly after entering Parthian territory, near the city of Carrhae. The Parthians' secret weapons were the armored knight (called a cataphract) and the horse-archer, and they used them to great effect against Crassus's largely horseless legions. Much of his army was pincushioned with arrows, and Crassus himself was taken prisoner while negotiating his surrender. One version of his death says that he was beheaded. Another far more lurid version says that the Parthians, well-aware of his vast wealth, forced Crassus to drink molten gold for his avarice.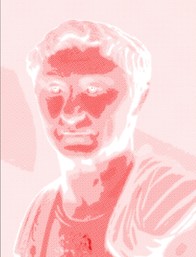 Things had already begun to deteriorate with Pompey. To seal the deal with him at the launch of the Triumvirate, Caesar had given his daughter, Julia, away to Pompey in marriage. It was apparently a love-match, but it ended in tragedy in 54 B.C., when Julia died in childbirth. From this point, relations between Caesar and Pompey, which were already on the rocks due to their respective envy, became irreparable. Optimate resistance to Caesar rallied about Pompey. Cicero was recalled from exile by the general in another swipe at his former ally. Pompey even married the daughter of a prominent Optimate senator. Pushed by the virulently anti-Caesar senator Marcus Porcius Cato, he supported the Senate, albeit hesitantly, when, in 50 B.C., they recalled Caesar to Rome to stand trial for crimes committed during his consulship, on his behalf by Clodius and in the Gallic Wars. (Clodius, by-the-by, was stabbed to death in a brawl between his supporters and a rival gang leader. Neither here nor there, but a fitting end to the douchebag, IMHO.)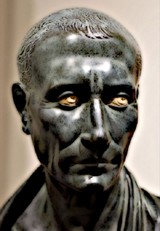 So, whither Caesar? His tricks had run out. His allies in Rome had turned against him. His loyalists in the Senate, Quintus Cassius and a young rapscallion named Mark Antony, had been run out of town on a rail after trying to veto legislation against him. The Senate gave him an ultimatum: resign your command, return to Rome or be branded an "enemy of the people." It looked pretty rough, until you considered that Caesar had a much better understanding of who the people were. The ones that mattered, the mob, was on his side. His army was fanatically loyal to him. The hand he held was powerful. But did he dare consider playing it?
​
SPOILER ALERT...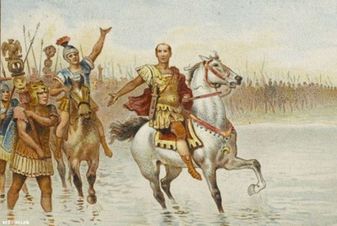 OF COURSE!!!
With a single legion, Caesar marched to the Rubicon River on January 10, 49 B.C. This was the border of Italy, which if crossed in arms by a Roman general meant civil war. Caesar inspired his troops with something nonchalant and ballsy ("Alea iacta est" - the die is cast) and crossed into history, or infamy, depending on which side of the Rubicon you were watching from.
​​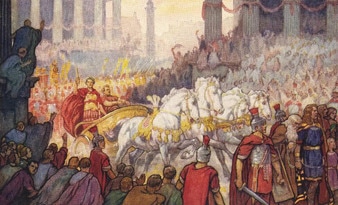 Caesar's entry into Italy did not surprise Pompey so much as his speed did. Unaware that he possessed only one legion, this sent the Senate into a panic. Pompey had raised levies of his own, and technically outnumbered Caesar, but many of his soldiers were raw recruits, while Caesar's were battle-hardened veterans of Gaul. Moreover, a goodly number of Pompey's soldiers were veterans of Caesar's armies, and it was uncertain how they would perform against their former general. Showing significantly more indecisiveness than he did against Mithridates, Pompey dithered until it was almost too late, then gave the order for his legions and supporters to evacuate Rome. He retreated south to the heel of Italy, eventually giving up the boot entirely as he fled to Greece. Caesar succeeded in trapping thirty cohorts of his army, which surrendered and joined his forces. He then marched to Spain in an unheard-of 27 days to destroy Pompey's forces at Ilerda, absorbing them into his army as well. In December, he returned to Rome and was declared dictator by the remaining Senate.
Was the war over, the Republic now dead? Far from it. Pompey was still at large, with a sizeable force in Greece and several of his worst enemies in tow. As his uncle Marius had discovered the hard way, bad pennies like these kept turning up if they weren't dealt with. He would have to take the fight to them to secure his coveted one-man rule, and do a lot of hard-selling to convince the Roman people to accept it. He would ultimately find the former far less difficult than the latter.
NEXT: THE HAIRY MAN TAKES IT ALL