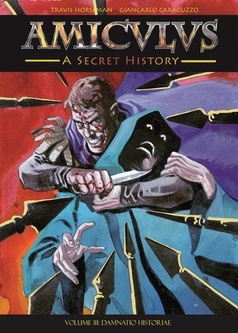 Current pledge level: $8752

Percentage of total: 51%

Days to go: 11

Click photo to go to campaign!
Salvete!

Today, we reached the halfway point in funding, and today, I will be announcing the first stretch goals for the campaign. Why, you may ask? Because I have reason to believe that you will get them.

First: remember the commemorative sticker image below?
​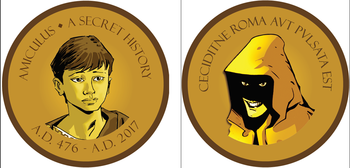 Well, the thing about this image is that I originally designed this to be a commemorative
coin,
designed using original art by
Giancarlo Caracuzzo
.
These would imitate the size and shape of a late Roman
solidus
coin, would be numbered in a limited series and issued to backers on the completion of the Amiculus trilogy. And should the campaign reach
$17,400 ($250 above the goal)
, this is exactly what they will receive! Below, See the photos below for approximate dimensions:
​
Also, you may recall this photo from an early panel in Volume I:
​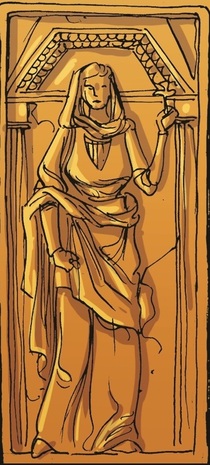 This is part of a family portrait of Romulus's family, depicting Romulus's mother. She also makes an appearance in several flashbacks in Volume II. As it turns out, she is the subject of the next Amiculus book, a prequel titled Amiculus: Domina. She appears in only a few fleeting scenes in the Amiculus Trilogy, but her story, happening alongside the events leading up to the entrance of the shadowy Amiculus, plays a crucial part in his genesis, and serves as a major catalyst in the path Rome follows to destruction.
​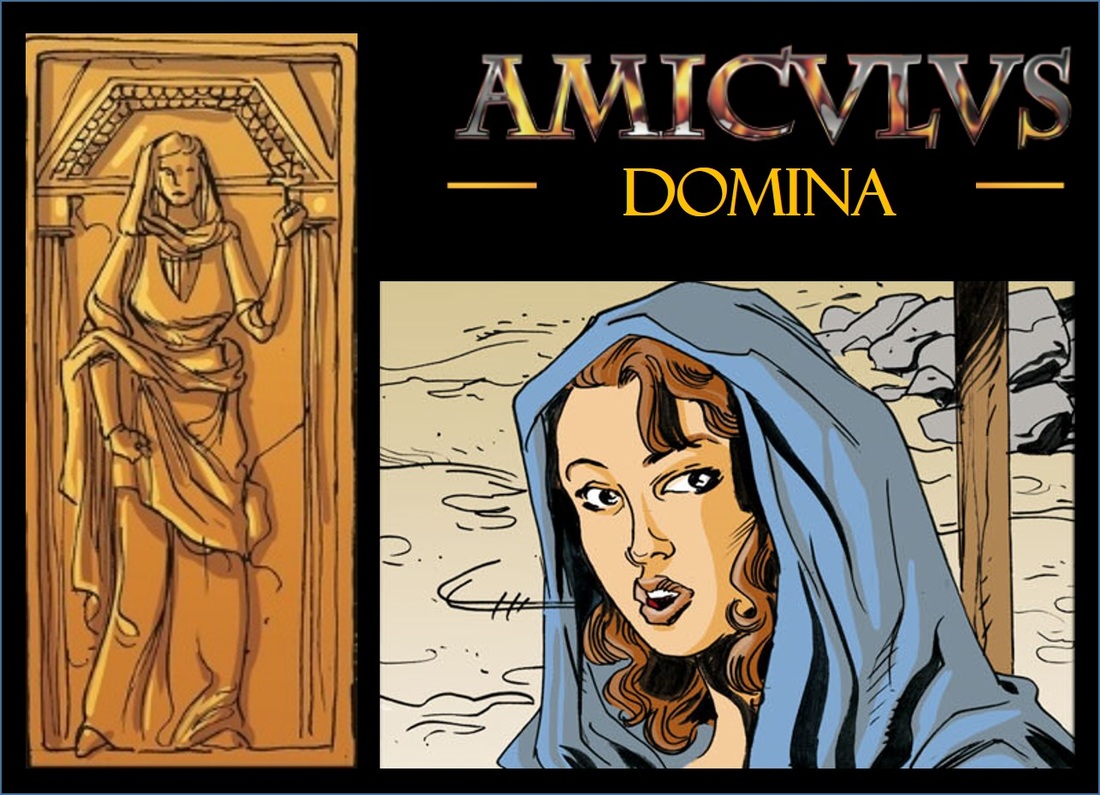 With this stretch goal, if we reach
$650 above goal ($17,800)
, I will include the cover of this upcoming book as an 8 x 10 mini-poster (signed by author and artist) with all backer rewards above $15, and add it to Volume III and the omnibus.
For every $250 after this,
I will include
one page
of the story as a preview in the back of Volume III and the omnibus, up to a total of seven pages!
So let's keep the momentum up! We've gotten this far already; we've got eleven days to do it again.
Share
the project as far and wide as you can, and it should be a piece of cake.
​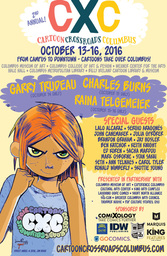 Also, if you are in the Columbus area on Saturday, October 15, check out Amiculus at the
Cartoon Crossroads Columbus
exposition! This is the second year of a convention highlighting independent creators, with a focus on central Ohio, and a lot of big names in comics are attached! (Click the picture at left to check out the lineup!)
I will be there also, at the
Laughing Ogre
table, from 11:00 to 2:30 on Saturday only. I hope to see you there!
MORE TO COME...