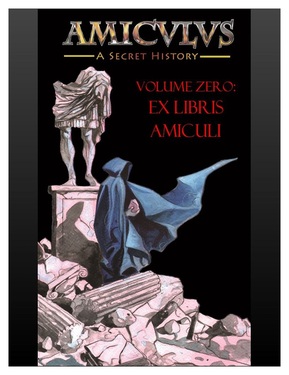 Volume Zero (temporary promotional cover)
Well, folks, we're in the last few hours of the
campaign
, and while I strive to be an eternal optimist, sometimes you've just got to face facts. The fact in this case is that we are too far from our goal for this Kickstarter to be successful. Sorry, guys.
Amiculus
was a nice idea, but I guess it'll just remain an unrealized dream.
--------------------------------------------------------------------------------------
Yeah, like hell it will.
So the campaign didn't go as planned. Ultimately, that means...very little. What it does mean is that production of this series will still go ahead as planned, just on a slightly longer timetable than before. I have looked at my facts and my figures, gauged the resources I have at my disposal, and decided that the next step in production is this:
Amiculus, Volume Zero: Ex Libris Amiculi.
Volume Zero will be a preview book to the series that will contain the first two chapters of the epic as a 20-page story. It'll be a solid gateway issue, and with luck will be finished on the same timeline as the full first volume would have been, premiering in Winter 2014. I will regularly be posting updates, including views of brand-new pencil, ink and color art to keep your appetites whetted. This preview will be made available for purchase and limited viewing, and will also be the promotional fuel I use for the
next
crowd-funding campaign I do in 2014.
Not convinced yet? Here is the
script
for the Prologue and Chapter One of
Amiculus: A Secret History,
the bones of Volume Zero. Check it out, then feel free to
e-mail
me or enter any thoughts, impressions or questions you have on my Contact Page. If you enjoyed this appetizer, I look forward to serving the main course.
Also, I recommend checking out another KS project
Giancarlo Caracuzzo
is working on with writer Peter Rogers,
Forgotten Planet
. It looks pretty cool!